Storing Your Hardwood Flooring
For the do-it-yourself crowd, there's a difficult balance between what you want to do, getting the materials to do it, and finding time to do the work. When you buy hardwood flooring to install later, you can store the materials indefinitely. However, without a bit of preparation you could ruin the wood before it ever leaves the box.
BUT DON'T I NEED TO ACCLIMATIZE THE WOOD?
In the past, acclimatizing your wood by leaving it for days or even weeks in its new environment was standard practice; with earlier manufacturing processes, this actually helped the wood dry out. Modern hardwood flooring is often kiln dried, however; this means that when it's boxed it's ready to install, and should be installed as soon as possible. Ask about the specific recommendations for your hardwood product because details can change depending on the process and type of wood. Generally speaking, if you need to store your hardwood flooring for a period of time the wood should be exposed to as little change as possible from the warehouse.
HARDWOOD FLOORING STORAGE: WHAT COULD GO WRONG
The National Wood Flooring Association recommends keeping the humidity in your home between 30 and 50 percent, and the temperature between 15C and 24C (60F and 75F). These same guidelines apply to the location where you will be storing your hardwood. Most problems that you'll encounter with hardwood flooring are related to water. Keeping your your wood away from leaks or potential flooding is pretty straightforward, but keeping it away from humidity requires a bit more planning. Everything from poor ventilation (i.e. in a crawl space) to washing and cleaning activities can add humidity to the air or even prevent moisture from evaporating.
Going back to the old argument for acclimatizing, working with wood that's had time to absorb extra moisture can cause a variety of problems:
The planks could become warped. Each individual piece will react to moisture independently, which could cause difficulty when it's time to install; the wood could, for example, expand on one end but remain the same on the other.
Every piece could expand slightly. Once installed, when the seasons change and the humidity drops, each plank will shrink back; this is what causes gapping.
Other damage could occur. Staining, splitting and cracks can derail your re flooring project before you even start
ONLY UNLOAD WHEN CONDITIONS ARE GOOD
When the weather is wet due to rain or snow, or if it's particularly humid, avoid loading or unloading hardwood flooring. As noted above, any moisture can damage wood in different ways like changing its shape or developing cracks as it dries. However, wood that actually gets wet must be allowed to thoroughly dry out or it could also develop mold or mildew. If you manage to avoid damaging the wood outright, drying wet hardwood is a slow process that can take weeks.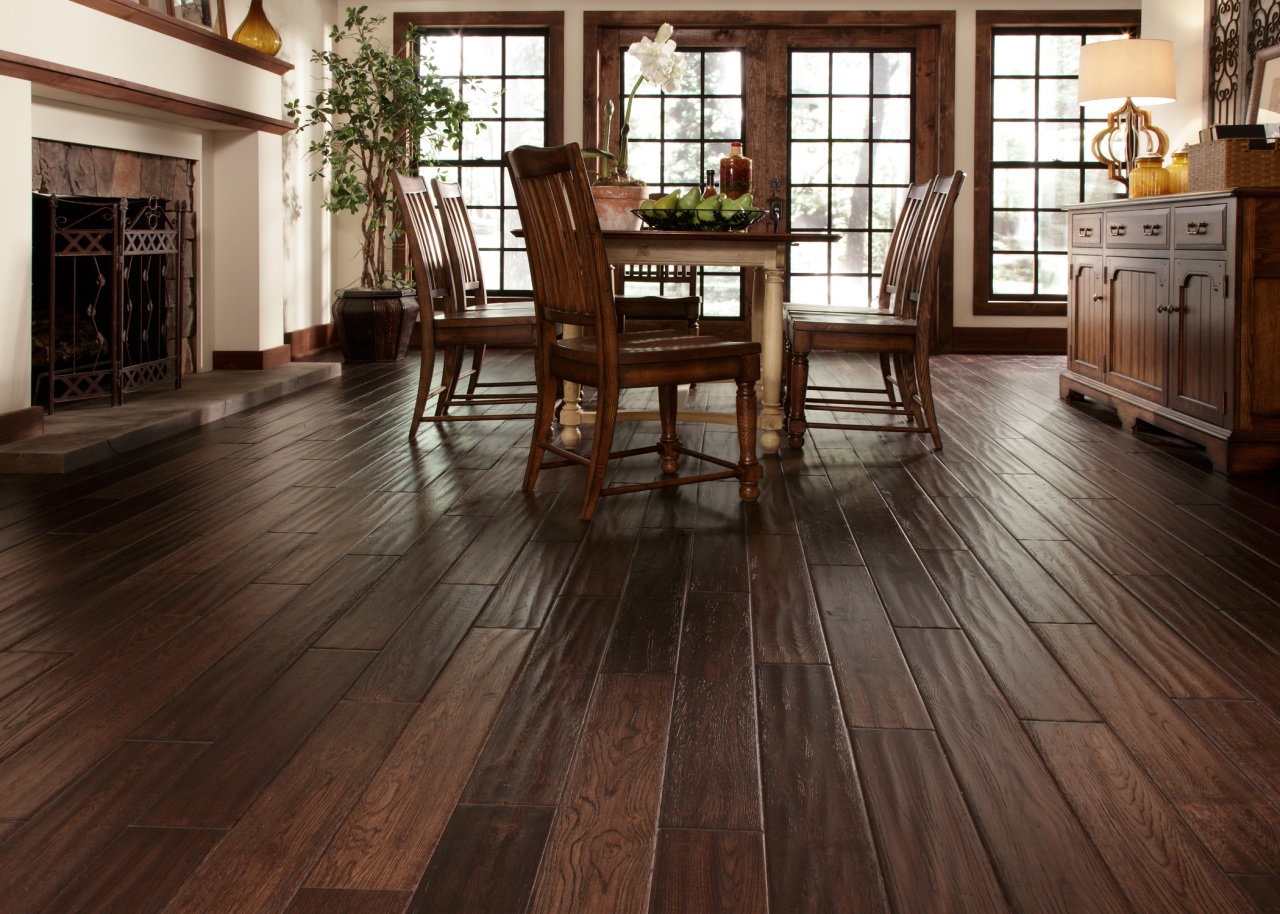 Everything You Need to Know About Hardwood Floors
Hardwood floors are one of the most popular flooring choices because of their durability and timelessness. Not only do they look great, but who doesn't love sliding across a polished hardwood floor in their socks from time to time? Hardwood floors can make a house feel like home.
Thinking about installing hardwood floors in your own home? You've come to the right place. Our guide to hardwood flooring will tell you everything you need to know about hardwood floors before you commit to a purchase. Also, we have licensed, bonded, and insured contractors to help you with your decision at any time.
Types of Boards
There are two main types of hardwood used to make hardwood floorboards: solid and engineered. Both types are made from 100% wood, but each has its own advantages and disadvantages.
Solid Hardwood
As you might have guessed, solid hardwood floors are made of solid wood. One board of solid hardwood is made from a single piece of wood. A solid hardwood board is typically about ¾ of an inch thick, but it can be sanded and refinished as often as needed. A solid hardwood floor is permanently affixed to a subfloor made of plywood or a similar material.
Engineered Hardwood
One board of engineered hardwood is made from several pieces of wood, typically three to five, which are bonded together into layers. The top layer of the engineered hardwood is usually hardwood with cheaper layers of plywood or other types of wood underneath. Engineered hardwood is cheaper and easier to install than solid hardwood.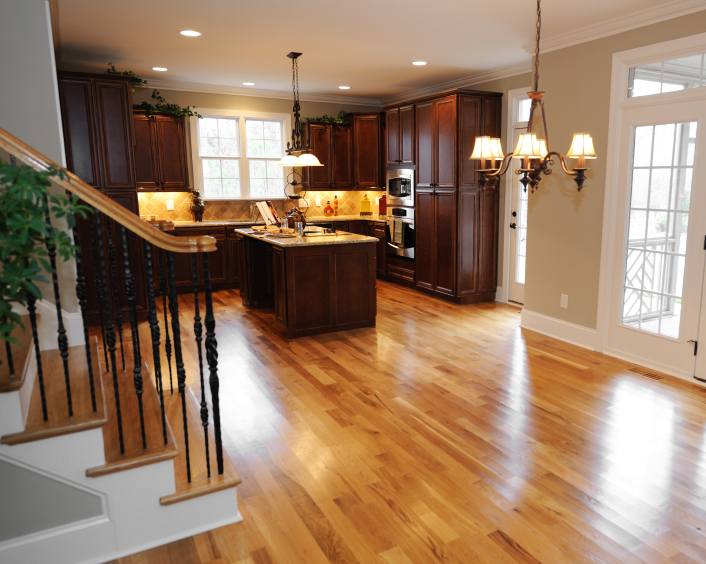 Things You Can Do to Prevent Damaging Your Hardwood Floors
Chances are you have hardwood floors somewhere in your home. While they may seem durable and long-lasting, they will last better with proper care. Aside from sweeping, cleaning, and mopping, there are more ways you can protect those floors.
Have a welcome mat
With the front door being the heaviest traffic area, it is more prone to damage from the outdoors and weather conditions. Protect your flooring with rugs in areas around the house that receive the most foot traffic. Set up an entry mat or rug right at your entrance door to protect your hardwood floors from any dust, dirt, or grime.
Remove shoes when inside
The easiest way to take care of your hardwood floors is to remove your shoes at the entrance door. By not wearing shoes in the house you eliminate all the tracked-in dirt that can damage the wood floor's finishing.
Clean messes right away
Spills happen, and when they do it's important to clean them right away. Leaving liquids of any kind on a hardwood floor can cause the finish to dull over time, and leave a residue on the surface. For an effective clean, use a microfiber cloth to gently wipe the surface dry.
Polish the flooring
It's important to give your hardwood floors some love and attention. Wipe down your floors when they start to look a little dull and it will go a long way. Pay close attention to the flooring and determine if the hardwood is covered in polyurethane or wax. For wax surfaces, use a cleaner that's specified for wax-coated floors. For polyurethane flooring, try using good old fashioned vinegar and water to clean.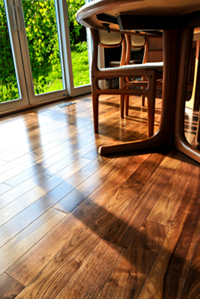 How to Care for Hardwood Floors
Taking proper care of hardwood floors is essential if you want them to last a long time. Routine cleaning is the key to protecting and maintaining your floor's appearance. Particular cleaning protocols need to be followed to prevent damage to the floor's surface. Aside from regular cleaning, damage can be minimized by observing a few maintenance and prevention measures. The longevity and durability of your hardwood floors can be preserved with routine cleaning and proper maintenance.
Cleaning Hardwood Floors
Dust every day with a microfiber mop or Swiffer. Microfiber cloths trap dirt, particles, pet hair and other household allergens with static electricity. Microfiber mop pads are more effective than sweeping with a broom. They're also safer, since some broom bristles can scratch the floor's surface.
Vacuum every week with a soft-bristled floor-brush attachment. Dust the floor with the microfiber mop before you begin. If you leave a lot of debris on the floor when you vacuum, this can scratch the floor's surface. After using the microfiber pad, carefully vacuum the floor using a floor-brush attachment.
Damp-mop once per month with a hardwood floor cleaner. Use a damp flat mop with a microfiber head. Do not dampen it with water. Instead, mist the mop head lightly with a cleaner made specifically for hardwood. Use the minimum amount of cleaner required to get the floor clean.
Follow a regular cleaning routine to maintain your hardwood floors. Regular cleaning is the most effective thing you can do to keep your hardwood floors looking great and damage-free. Create a cleaning routine and stick to it. For best results, dust every day with a micro-fiber cloth. Vacuum biweekly with a soft-bristled floor-brush attachment. Damp-mop once per month with a hardwood floor cleaner
HELPFUL TIPS TO PROTECT YOUR HARDWOOD FLOORS THIS WINTER
There is no doubt about it, this winter has been one of the colder ones in recent memory, and while there are no doubt many things that need to be done around your home in order to keep your house in good shape this winter, it is important that you don't forget about your floors when doing so. If you have hardwood floors in your home, you might be surprised to find out just how rough the winter months can be on them, and how easy it is for them to sustain damage in that time. Hardwood flooring is a major investment, and with the right care, it can be one that you and your family can continue to enjoy for many long years to come. In an effort to make sure that is the case, our team of professionals have taken the time to put together this short list going over a few helpful tips that might help you better care for your hardwood flooring this winter and keep it well protected going into the spring.
Use Protective Rugs & Covers
As anyone who has lived in the area for any length of time can tell you, during the winter months, the entryways of your home are going to get dirty. Between snow, dirt, and salt, there is going to be a wealth of that nasty slush that is going to be tracked into your home during the winter months as everyone comes and goes on a daily basis, and it can really take a toll on your hardwood floors over time if you aren't careful. Salt in particular can leave behind a white residue that is highly abrasive and can scratch up your floors very badly. Using rugs and covers around these areas of your home will help to reduce how much of this is tracked in throughout your home, helping to spare your hardwood floors from the worst of it, as well as reducing the chances of slipping and falling.
Sweep & Clean Your Floors Regularly
As we stated above, there is no shortage of filth and debris that is going to be getting tracked into your home during the winter months, and one of the best defenses against these is just to make sure you are regularly sweeping and cleaning your floors to remove it. Puddles of water from melting snow and ice can be particularly destructive to your hardwood floors, and as such, it is important to make sure you clean them up immediately. After absorbing the moisture with a towel or cloth, it is a good idea to give your floors a good mopping to remove any abrasive debris that might still be in place before drying the floors once more. Be careful when mopping these areas, however, as if you have debris that gets mixed into the water, you could actually wind up causing damage.
Keep Your Home At The Right Temperature & Level Of Humidity
Lower temperatures and drier air can both be rough on your hardwood flooring. The lower temperatures of winter, combined with the drier air can actually cause your floorboards to shrink or otherwise warp out of shape. This makes it extremely important to ensure you are maintaining the right temperature in your home, but also the right level of humidity. As your boards shrink and dry out, it is very easy for them to warp out of shape, crack, or split, causing irreversible damage to the wood itself. Making sure that you are running your homes' heating system will help to prevent much of this shrinking, and by running a humidifier in your home, you can ensure that your home has the right level of moisture in the air to keep your hardwood floors from drying out and becoming damaged.