DIY Termite Control: Must-Know Tips for DIY Termite Control
Termites are active all year-round, so there's no bad time to start preparing your defenses against these wood-chewing pests. There are many highly effective DIY termite control steps that homeowners can take to guard their homes. Here is what you need to know.
Inspect Your Foundation Each Season
Several times a year, take a slow walk around your foundation and look for any signs of damage so you can formulate a termite treatment plan. No, termites don't eat concrete, but they do create mud tubes, which are a sign termites are trying to scale up your foundation in search of siding or other tasty wood. If you see mud tubes, it's time for a closer inspection and some DIY termite control tactics.
Maintain Proper Ventilation and Sealing
Ventilation and sealing are key to moisture control. Without the right ventilation in attics and basements, condensation can build up and seep into wood and make it the perfect habitat for termites (plus condensation causes mildew and rot). And without the right sealing and moisture barriers, moisture can even build up behind your walls. Without that moisture, termites have fewer reasons to go exploring, which makes this one of the more effective termite control methods.
Create an 18-Inch Space Between Soil and Wood
Any place that you have wood that you want to protect—especially siding and decks—you should try to separate it from soil (where termites linger) by at least 18 inches. This is enough to keep termites uninterested. The easiest method is to use a gravel bed, which can serve as DIY termite control and good drainage at the same time.
Use Repellent Termiticide on Safe Wood Structures
Repellent termiticides help you protect wood that has not yet been located by termites. Use it around sheds, decks, fences and similar areas to help prevent termites from discovering them.
Heat Can Also Kill Termites
Termites are heat-sensitive, so heat can be an excellent termite repellent and an easy homemade termite killer. If you can heat up a space to at least 120 degrees F. for at least half an hour, the termites there will die. This is a cost-effective way for DIY termite control without using pesticides. However, you can't try this near plastics or wiring, and it doesn't work as well on especially large beams, so be careful.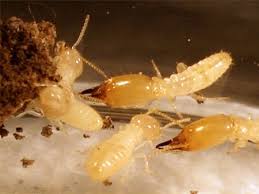 Do Termites Live in The Ground?
As we already mentioned, termite larvae live in underground burrows all its life. These insects can be found on all continents except Antarctica. However, most of the species are found in tropics, subtropics, and sometimes in warm temperate regions. There are more than 2000 different termite species, some of them live only in certain places, are protected by the government and are on the IUCN Red List. There are only 10 species of termites in Europe, while Africa has more than 1,000. The northernmost areas where termites can be found are in the south of Canada, in central France, Korea, and Central Asia.
Mediterranean termites, which do not cause any severe damage, live in temperate climates of the Mediterranean Sea region.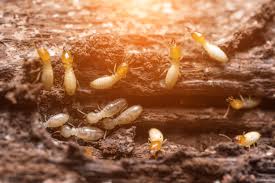 HOW TO GET RID OF TERMITES YOURSELF: THE 5 BEST METHODS
Professional termite control is expensive; there's no doubt about that. After seeing just how expensive, it's natural to wonder how you can kill termites yourself and whether or not it would be effective. The good news is that if you detect the infestation early enough, you stand a great chance of taking care of the termite problem yourself.
We've compiled five of the best DIY methods on how to kill termites yourself right here.
METHOD #1: LIQUID TERMITE BARRIER
This method will not only kill the termites already present in your house, but it's a good preventative method too. The idea behind a liquid termite barrier is to completely surround your house in a pesticide barrier that will poison termites upon contact. While it is commonly used around the entire foundation of the home, it can also be used around specific wooden structures, wood piles, or tree stumps.
METHOD #2: POISONED BAIT
For some people, the liquid barrier treatment, though undeniably effective, is a little too radical for them. They might not view their termite problem as too serious, or perhaps they do not feel comfortable with having gallons of pesticide being sprayed around their home. For such individuals, we recommend using poisoned bait. You don't have to spray pesticides around your home; the bait will attract foraging termites that will then spread the poison back to the colony.
METHOD #3: DIRECT CHEMICAL TREATMENT
While a liquid barrier treatment or poisoned bait is very effective for the outside of your home, you can't really use it for the inside of your home. Don't get us wrong; liquid barrier and poisoned bait treatments are perfectly able to kill the termites within your home due to the poison transference effect. We are just saying that you cannot directly use the products within your home. That means that if you spot some termites in a crevice in your wall, attic, and rafters etc. you need something to take care of them right there and then.
METHOD #4: BORIC ACID
Boric acid is considered to be the best 'in between' solution when it comes to the pesticides vs. natural solutions debate on pest control.
It works on most insects, including termites, where it is theorized that it affects their digestive and metabolic systems. After contact, it would take anywhere from 3 to 7 days for an exposed termite to die. And while not exactly a natural remedy, it is much lower in toxicity compared to the stronger insecticides used in the previous methods.
METHOD #5: BENEFICIAL NEMATODES
Now we are getting wholly into the 'natural' methods of termite removal. No pesky chemicals required, however be warned that chemicals and pesticides are used for a reason; they are extremely effective. That said, if your termite problem is on the minor side or if you are looking more for prevention rather than cure, these natural methods are a good option with zero health risks.
When these beneficial nematodes come into contact with termites or other harmful insects, they invade its body and begin feeding on it. In the process the nematodes release gut bacteria that cause blood poisoning and subsequent death of the host. After the host is dead and consumed, the nematodes move on to their next target, while breeding and multiplying the whole time.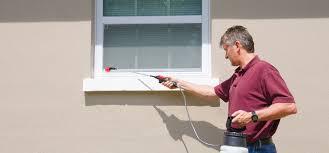 Take Preventive Measures
The best way to treat a problem is to make sure the problem never occurs. Instead of trying to find ways to get rid of termites, look for ways to keep them from getting into your home in the first place. Regular Mesa termite inspections can help you keep tabs on the situation. But you should also make sure to keep wood, cardboard, and other cellulose away from your home – such as extra lumber in the crawl space, firewood stacked up in the garage, or even untreated mulch in the bed by your door. You should also keep moisture out of your home by ensuring that you have proper ventilation, as well as proper drainage in the landscape around your home.
HOW TO KEEP TERMITES OUT
Keep all shrubbery near your home trimmed, allowing at least 12 inches between the shrubbery and the exterior wall of your home. This will create a nice air flow and allow damp areas to dry out quicker. It also allows termite tubes and termite damage to be discovered earlier.
Use pine needles instead of mulch. Pine needles are less appetizing to subterranean termites and will also help minimize the environment that other insects such as ants like to nest in as well. If pine needles aren't available in your area, consider pea gravel or other non-organic material as a barrier between your house and mulch.
Keep all sprinkler heads pointed away from your home's foundation. Subterranean termites like moisture and a sprinkler pointing toward you home creates an ideal environment for them.
Preventative maintenance goes a long way. By properly maintaining the exterior of your home such as wooden siding or windows, it will decrease the likelihood of water leaking behind your wall and creating an ideal environment for subterranean termites.
If your home has a crawl space underneath it, make sure it has proper ventilation and a good vapor barrier to help minimize moisture from reaching the floor joists and subfloor. Moisture not only can be a conducive condition under your home, it can also cause wood destroying fungus to grow. Moisture in a crawl space can also lead to unpleasant odors inside the house and in the right conditions create an environment for certain kinds of wood destroying beetles to infest the wooden members under your home.